The Four Types of Ramen You Should Know
Ramen Noodles 101
Maybe you've had the pleasure of delicious homemade ramen. Maybe you've become skilled in elevating instant ramen into a quick, tasty, affordable meal. Maybe you've never had it at all. But whether you're a ramen veteran or simply ramen-curious, it will help to know the four main types of ramen as you slurp your way toward expertise.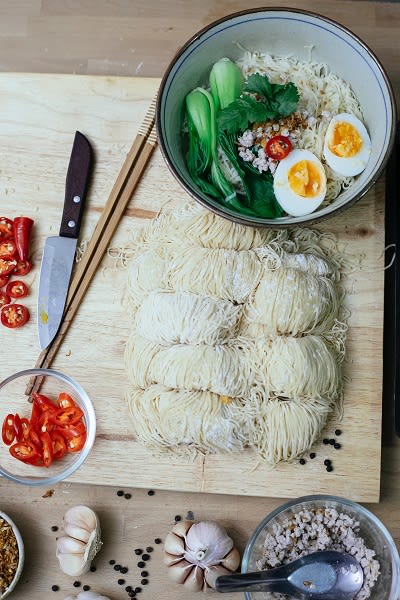 What Is Ramen, and What Are Ramen Noodles Made of?
First, though, a nod toward the essence of ramen itself: the noodles. Ramen noodles are made from wheat flour, salt, water, and "kansui," which is a type of alkaline mineral water that contains sodium carbonate and usually potassium carbonate, both of which shape the texture of ramen noodles.

The dish itself was introduced into Japan by Chinese immigrants centuries ago and quickly spread throughout the country. In recent years, ramen has exploded in popularity in the United States; currently 23,000 restaurants in the country serve ramen. There are different types of noodles (straight or curly), tare (seasonings), and an abundance of ingredients that are curated to enhance the flavor and components of each soup dish.

But the main way ramen is categorized is by its primary flavor, which comes from how its broth is made. There are four general classes of ramen: shoyu, tonkotsu, miso, and shio. Here's what you need to know about these four types of ramen.
The 4 Types of Ramen You Should Know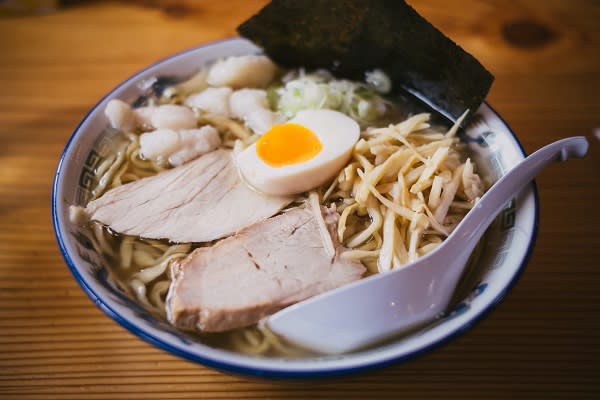 1. What Is Shoyu Ramen?
Shoyu ramen features a clear, brown broth with a chicken or vegetable stock base and soy sauce. In fact, "shoyu" means "soy sauce" in Japanese, giving it a salty and tangy flavor that won't be too heavy on the taste buds. Shoyu ramen is one of the more popular flavors in the United States because most people know what to expect from soy sauce.

Typically, when ordering shoyu ramen, it will come with curly noodles, scallions, carrots (ninjin), boiled eggs, bean sprouts, fish cakes (kamaboko), seaweed (nori), pork belly (chāshū), and bamboo shoots (menma). There can be variations, such as the shoyu ramen noodles being straight instead of curly, sliced beef being served instead of pork, and adding chili oil and other Chinese spices. Also important to note: When making shoyu ramen, chefs cultivate their own sauce using an amalgamation of ingredients like dried seafood, dried mushrooms, and herbs mixed with a chicken broth base, as with this Chicken Ramen Shoyu-Style dinner recipe.
2. What Is Tonkotsu Ramen?
Tonkotsu ramen originated in Kurume, Fukuoka Prefecture, located on the northern shore of Kyushu island in Japan. Tonkotsu ramen is particularly renowned because of the time it takes to make it properly.

Tonkotsu means "pork bone" in Japanese, which flavors the broth. Over high heat, the pork bones are boiled with fat and collagen for hours —sometimes up to 18—which helps thicken the broth and give it a creamy consistency that can vary anywhere from the viscosity of milk to gravy. This long, slow simmer means that the broth is cloudy white and translucent, with a distinctly meaty flavor. The soup broth will contain garlic, spring onions, onion, ginger, and a different type of pork, such as pork back fat, pig's foot, and braised or roasted pork belly.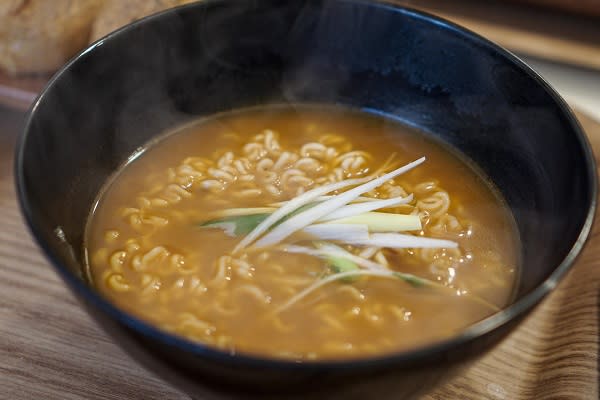 3. What Is Miso Ramen?
Miso ramen gets its name from the generous amount of miso that gives the broth a strong, pleasantly sharp umami flavor. The broth is sometimes mixed with tonkotsu, lard, oily chicken, or fish broth, giving miso ramen a robust flavor. Miso is fermented bean paste, lending the broth a slightly nutty taste as well. As a result, miso ramen will have thick, curly, slightly chewy noodles. It can include ingredients such as spicy bean paste (tōbanjan), butter, corn, leeks, onions, bean sprouts, ground pork, cabbage, sesame seeds, white pepper, chili, and chopped garlic.

Of the four flavors, miso ramen is the youngest, originating at a restaurant called Aji no Sanpei, located in Sapporo, Hokkaido, in the 1950s. Legend has it that a drunk customer asked the chef to add some noodles to their miso soup, accidentally creating a new entree.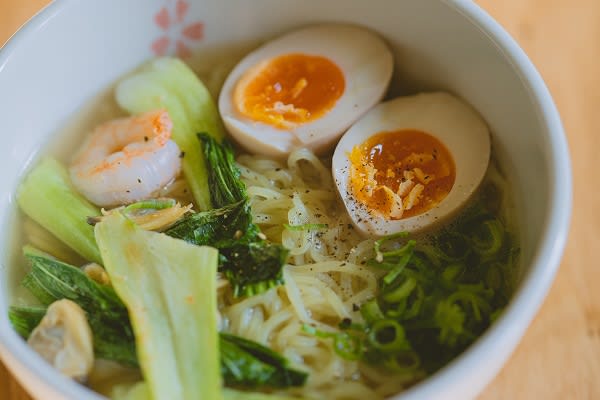 4. What Is Shio Ramen?
Shio is the oldest of the four flavors and means "salt," as sea salt was the oldest form of seasoning, dating back to the original Chinese-style noodle soups in the 1800s. The soup will contain a combination of vegetables, chicken, seaweed, fish, and lots of salt, giving the broth a pale, yellowish color, and ramen noodles will usually be straight noodles. However, some restaurants or recipes might include pork bones like in the tonkotsu, just not boiled for nearly as long.

As good as shio ramen is, if you're watching your sodium or having sodium-related health problems, it's best to stay away from this one.