What Is Sautéing, and How Do You Do It?
Sautéing 101
Sauté refers to cooking high and dry—using a small amount of fat to cook food quickly in a piping-hot pan. The word sauté means "jump" in French, and indeed, making the food flip in the pan is a key part of the technique, so that it's not sitting for too long in one spot. However, unlike stir-frying in a wok, you're not constantly moving the food around with a tool, either.

Although "sauté" is often used as a catchall for any form of cooking in a hot pan on the stovetop, mastering the nuance between sautéing and pan-frying can mean the difference between crisp-tender vegetables and soggy limp ones, or a golden breaded chicken breast versus one that is pale, tough, and dry. Let's get into the specifics.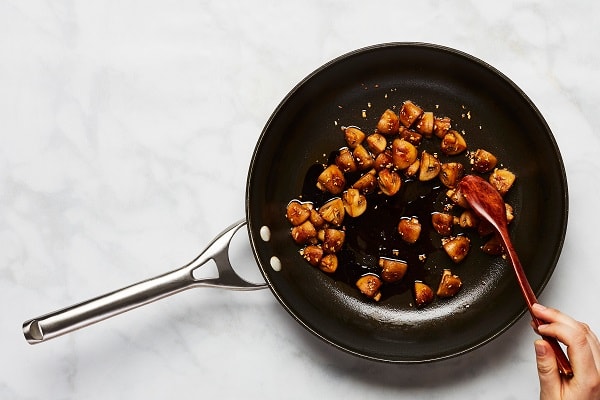 How to Sauté
These simple directions will help you sauté like a Michelin-starred chef:


First, make sure that the pieces of food you plan to sauté are relatively even in size and thickness so they can brown quickly and evenly.
Next, it's crucial to get the pan very hot over high heat before adding the fat. Once you add the fat to the pan, allow the fat to heat up before adding the food, which helps ensure even and quick browning without overcooking or drying out the insides of larger pieces of food.
Finally, add your food to the pan and allow it to brown on each side before moving it, using a flick of the wrist (to help the food jump or flip), or a nonstick flipper or turner to help you.

Follow your recipe closely for visual cues, but generally you'll know the food is finished when it is golden brown on the outside and crisp-tender on the inside for vegetables, and just cooked through but still moist for meat or fish.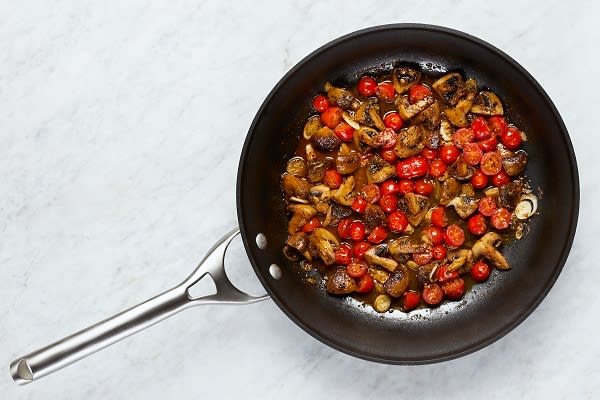 What to Sauté and Why
Sautéing lends a richness to fresh produce, fish, and meats. And, since the food is cooked quickly, the flavor of the food itself, especially vegetables, shines through.

As the time in the pan is brief, the best foods to sauté should be naturally tender. Many vegetables are prime candidates, particularly snap peas, snow peas, green beans, zucchini, mushrooms, asparagus, and peppers. Fish, thinner cuts of meat, and strips of pork and chicken also can be sautéed to great success.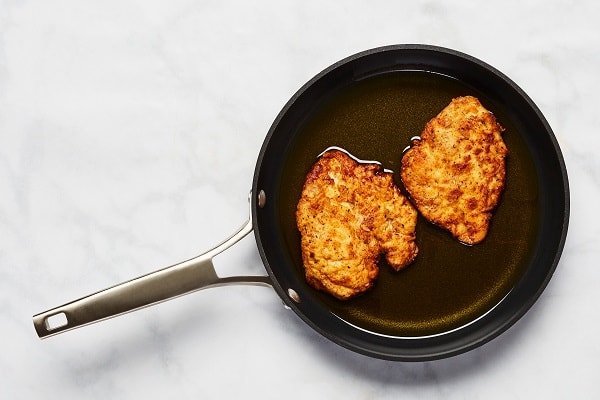 Know the Difference: Sauté vs. Fry vs. Pan-Fry
By definition, frying is cooking by immersion in hot fat (as with fried chicken or french fries), whereas sautéing is cooking via the direct heat of the pan, in just a small amount of fat or oil—or a mix of both. (Pro tip: A combination of butter and oil is magic when sautéing vegetables.)

In frying, the (hot) fat is the cooking medium —it's the oil's heat that's browning the food. In sautéing, the fat is there both to keep the food from sticking to the pan and to add flavor, but it's the hot pan that actually cooks the food.

Things get trickier when you add the term "pan-fry" into the mix. Pan-fry can mean a shallow-fry (requiring a larger amount of fat than sautéing, a lower heat, and in some cases a longer cooking time), but more often it actually means sauté. The terms "sauté" and "pan-fry" are frequently used interchangeably in American cooking. In fact, many modern-day, home-cooking-forward American recipe writers have eliminated the word "sauté" from their directions.
Let's Talk About Pans - What to Use When Sautéing
The Right Pan for Sautéing
When it comes to the right tools for the job, recipes will often call for a skillet or frying pan—or more formally, a sauté pan—though all three may be used interchangeably. All are shallow and wide, with either straight sides (skillet) or sloped sides (sauté pan).

A good sauté pan should have a large surface area so the food doesn't get crowded and steam instead of browning, and it should be made from a material that conducts heat evenly. Ideally, you'll use stainless steel (which readily transfers to the oven at high heat without damage), anodized aluminum, or a nonstick pan (this is especially helpful for beginners).
Do You Sauté With the Lid On or Off?
Off! Many recipes won't specify this, so it helps to understand what a lid does. Using a pot or pan lid is helpful when you're trying to keep moisture in, because it captures any evaporating liquid and puts it right back into the dish. When you're steaming or braising foods, you keep the lid on. But when you're sautéeing, you're after the opposite effect—you want the liquid to evaporate so that whatever you're cooking can get a nice sear on the outside.