How to Thicken Soup: 8 Tips and Techniques
Soups 101
Some soups, like chicken noodleand miso, are best when brothy. But others, such as gumbo and chowder, are better with a hearty and rich texture. And sometimes you just want your soup to feel thicker and more filling so it's a more satisfying meal.

Here are eight great ways to take a soup from watery to full-bodied. Choose your method based on what you have in your pantry and what kind of soup you're making.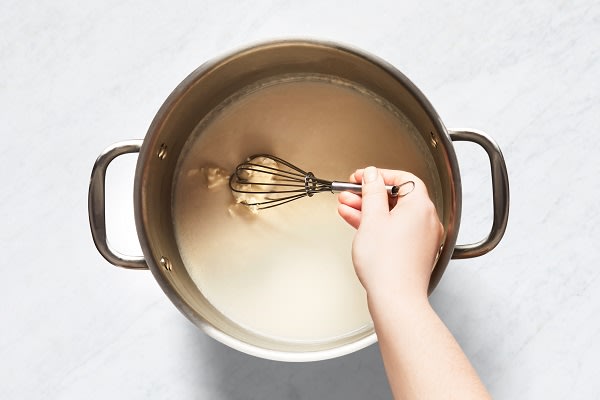 1. What is a Roux? Why Should You Start With One?
If you want to ensure a thick and creamy broth base for your soup from the start (think cream of mushroom), make a roux. Roux (pronounced "roo") is a traditional French technique for thickening sauces and soups by starting with a base of cooked flour and butter. The ratio of flour to butter varies, but it's often 2-to-1—for most soups, ½ cup of flour and ¼ cup of butter should do it.

As for how to make a roux, start by melting the butter over medium-low heat in your soup pot. Add the flour and stir constantly with a wooden spoon until the flour has fully absorbed the butter. Continue cooking and stirring until the mixture is smooth and thick and small bubbles begin to form, about a minute. It should smell nice and nutty. At this point, you're ready to add the ingredients for your soup. The exception: If you're making gumbo or another soup that calls for a brown roux, keep cooking until the roux is very dark brown and fragrant—another 10 to 15 minutes.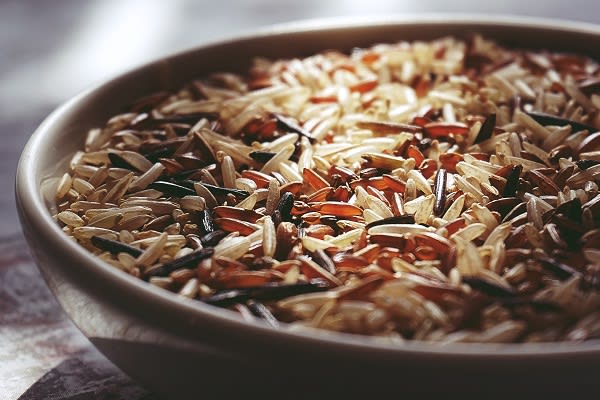 2. Add Rice
When you want to add a little heft to your broth—say, when preparing a chicken or vegetable soup—rice can do the trick. Simply throw a handful of any uncooked white rice you have into the broth as you cook the soup and let it simmer for at least half an hour. The rice will expand and release its natural starches into the broth, adding texture and body. If you want a slightly healthier option, go for brown rice.
3. Add Potatoes
Similar to rice, cubed potatoes naturally release starch as they cook. And once they start to overcook, they will break down into the broth of the soup to add texture as well. If you're making a vegetable soup that you plan to purée, a little bit of potato in the pot goes a long way to thicken the final product. *Tip: Instant potatoes can be used as a thickening agent. For 4 cups of soup, you should not need more than 1 cup of potato flakes. Mix in a teaspoon at a time until you reach your desired consistency. *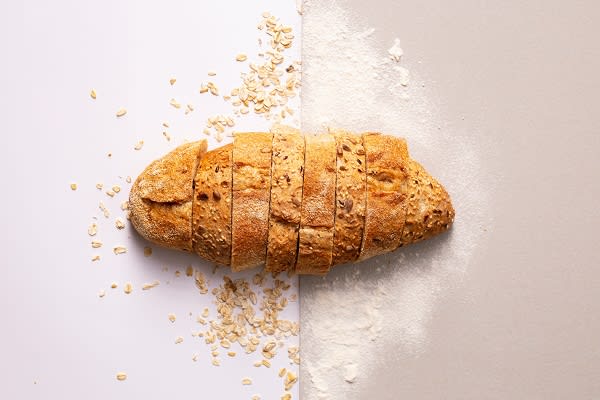 4. Add Bread
Simmering stale bread into a soup is not only a great way to give old bread new life, but it also lends thickness and structure to any soup you add it to. The texture of soaked, falling-apart bread in soup is almost like bread pudding, and some soups, such as the Italian bread soups ribollita (with white beans, kale, and tomato) and pappa al pomodoro (with just tomato), rely on it for their structure. If you want the pieces of bread to stay intact, dry them out by toasting them in the oven for a bit before adding them to your soup pot.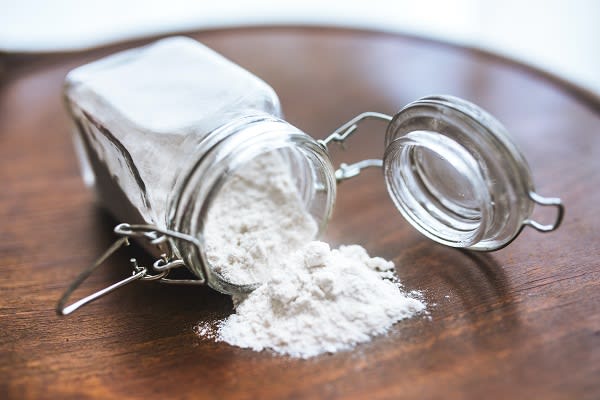 5. Thicken Soup With Flour or a Starch
A "slurry" is simply a mixture of starch, such as flour, cornstarch, potato starch, or tapioca starch, whisked into water. The slurry is then added to a soup or sauce to thicken it. The reason to make a slurry rather than whisking starch directly into soup is to avoid clumping, which will most certainly happen if you sprinkle starch directly into your simmering pot. A slurry is best deployed near the end of cooking a soup, making it a good choice for when you realize that your chowder isn't as thick as you like it or when you want your soup to have a little more body.

Make a slurry by whisking a tablespoon of starch into a quarter-cup of cold water until smooth, then add some of the broth from your soup pot and whisk to combine and help warm the slurry. Then pour it into your soup pot and stir it in. It should start thickening instantly, but be sure to let the soup come to a boil to get the full thickening power of the starch. Note: When using all-purpose flour, whisk extra well to avoid lumps, and be sure to let the soup boil for at least a full minute to thicken.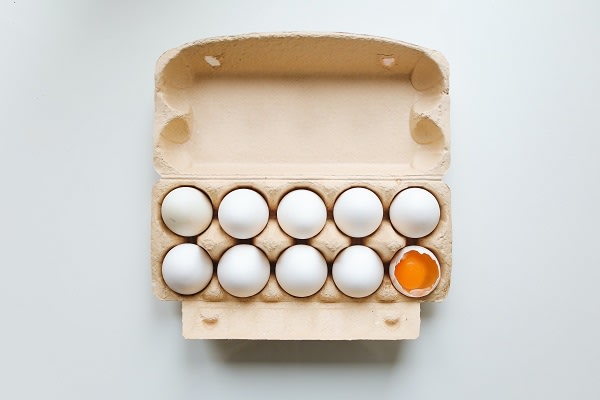 6. Add Eggs
Some soups, like Greek avgolemono, rely on egg yolks to get their rich, custardy texture. To use egg yolks to thicken a soup, whisk the yolks on their own in a mixing bowl and slowly ladle in hot soup bit by bit, whisking constantly, until the mixture is hot to the touch. This is called tempering, and it ensures that the yolks don't cook and scramble immediately when added to the soup (which is the goal in egg drop soup). Once the egg yolks are tempered, whisk the mixture into the soup pot to thicken your soup.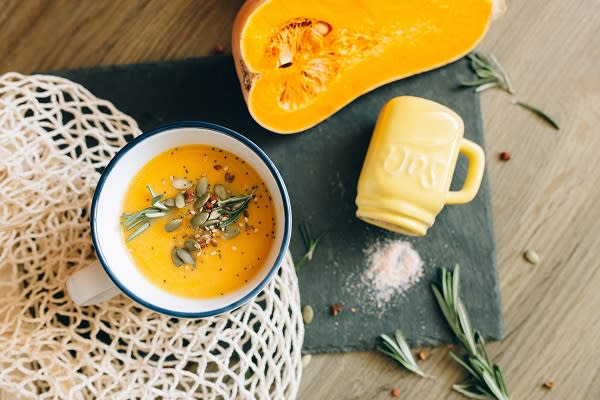 7. Purée
The easiest way to thicken almost any soup is not to add anything to it at all, but to purée a portion (or all) of the mixture. If you have a hand-held immersion blender, you don't even need to take the soup out of the pot—just give it a few zaps until it has reached your desired consistency. Alternatively, transfer a portion of the soup to the jar of a blender, purée, then pour back into the soup pot and stir to combine. Partially puréeing to thicken works best for soups that you still want to have some texture, such as lentil or minestrone. For a thick and creamy all-vegetable soup, purée the whole mixture completely.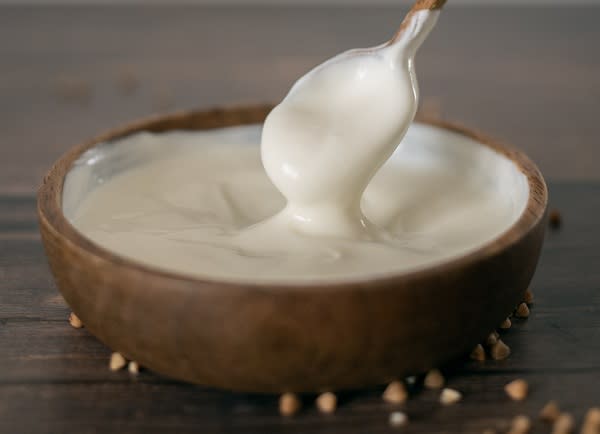 8. Add Sour Cream or Yogurt
This method is best for a puréed vegetable soup, when you want it to get thicker and creamier before serving. It is also an effective way to add tanginess to your recipe. Stir in some sour cream or yogurt (make sure to taste and adjust the seasoning if needed), and you'll get an instant richness boost in both texture and flavor. Just be sure not to let your soup come to a boil after doing this, which could cause the dairy to curdle in the soup.